I'm a multi-media artist and Mexican Immigrant living in California. My family migrated here shortly before the recession of 2007 and I've had to navigate assimilation to the United States, in a period of extreme social and environmental shifts. I experienced the difficulties of the immigration system to obtain a legal status and the nuances of understanding my identity as a malleable, geographically, and legally dependent concept. All these experiences have shaped the way I make artwork and my research and focus on power structures, mestizaje and identity, the American ethos, language, and de-colonial theory. 
I use construction materials, ceramics, textiles, paper and video to convey questions about these themes while also focusing on material qualities, process, and symbolism. 
I graduated from the University of California, Davis in 2018 with a Bachelor of Arts in Studio arts and a Minor in Art History. My work has been exhibited throughout California at institutions like the CCA Galleries, Chandra Cerrito Contemporary, Southern Exposure, South of Market Art Center, the Torrance Museum among others. I am currently a member of Axis Gallery in Sacramento and have been a recipient of various awards including the Vermont Studio Center Fellowship, The Young Space Grant, the Crocker Kingsley Award and the Herb Alpert Scholarship for Emerging Young Artists.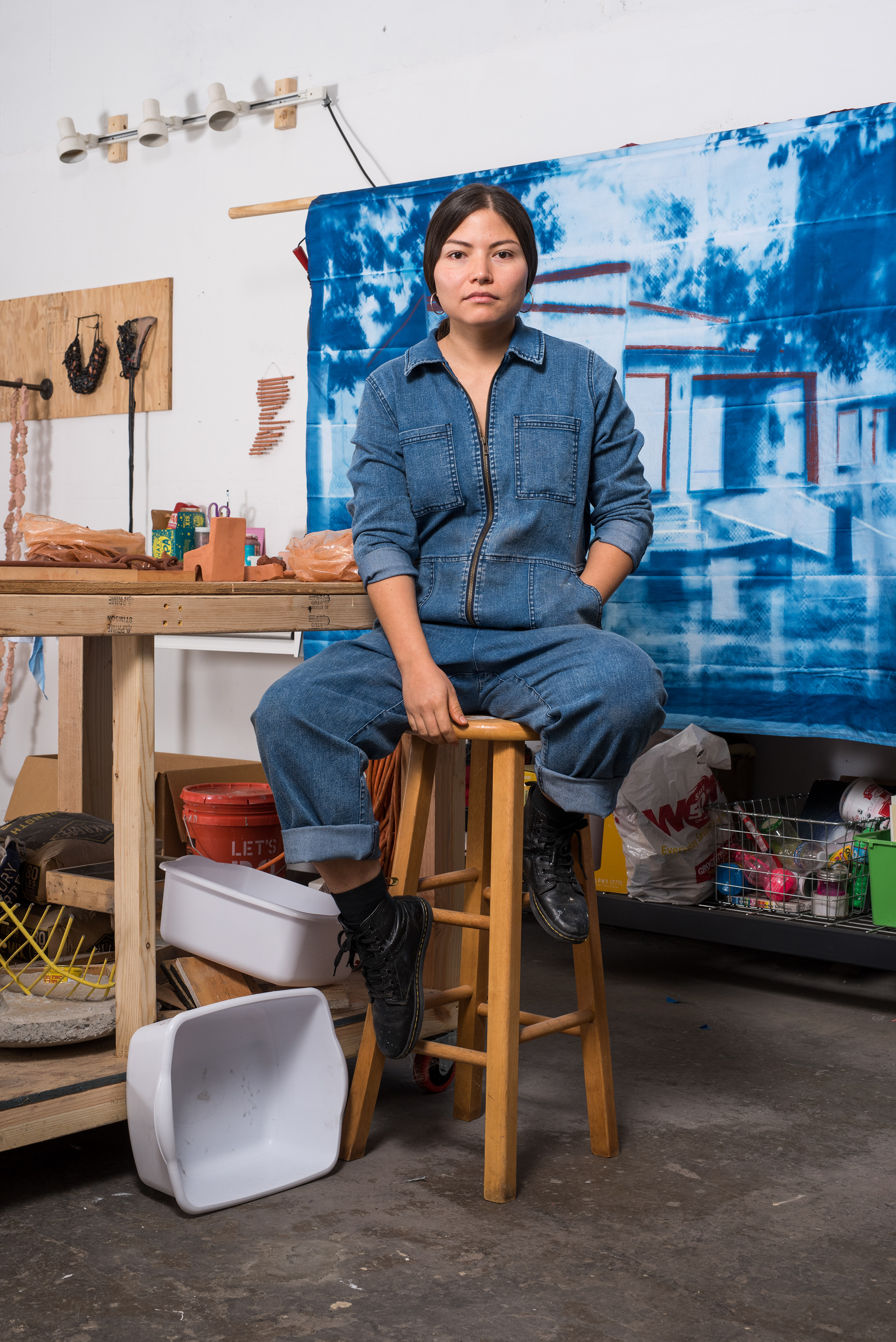 (Solo)

Fragmentos
, Garage Door Gallery, Sierra Nevada University February 8 – March 15, 2021

Vessel Fountain
, Axis Gallery, October 3 –  31 2020

Overwhelming Ground
, Casa Lu, Mexico City, September 17 –  20

Binomial
, Chandra Cerrito Art Advisors Residency Space, Oakland CA, June 7 – 28 2019
Roof on Fire
, The Holland Project Gallery, April 1 –  May 7

(Online) Family Matters
, Root Division, December 7 –  Jan 4
2020
(Online)
Producing Space
, Outback Arthouse, curated by Zach Clark & Kristin Hough, exhibition essay by Ginny Van Dine, www.outbackarthouse.com/producing-space.html
(Online)
Past, Present, and Future, a Celebration of Axis Gallery
, Aida Lizalde and Janice Nakashima, Axis Gallery, May 29 – June 14
Everyday People
– Curated by Manuel Fernando Rios, Mendocino College Art Gallery, Ukiah CA, February 7 – 29
2019

Latinx: Art Beyond the Border,
L.H. Horton Gallery, Stockton CA, October 17 – November 7

Let this be a lesson to you
, Ridley Gallery at Sierra College, Rocklin CA,  September 30 – October 17

La Lucha Convergence of Identity,
Latino Center for Art and Culture, Sacramento CA, September 21 – December 21

Surroundings
, The Barn Gallery Woodland CA, September 5 – December 30

The Glass Cube Project,
CCA Hubbell Street Galleries, San Francisco CA, September 3 –27

Beacon, 
Torrance Art Museum, Torrance CA, March 30 – May 17

Pocas Palabras,
Axis Gallery, Sacramento CA, March 1 – April 28

The Tallest Part of the Arch
, Southern Exposure; Curated by Marcela Pardo Ariza, San Francisco CA, February 15 – March 30

Axis Exchange,
Gearbox Gallery, Oakland CA January 10 – February 9